Not yet released!

This article or section includes information about announced content that has not been released yet. The expected release date is unknown.
Please remove this template when the content has gone live.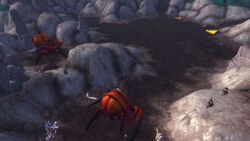 The Feeding Pits are found in the southwest corner of Sra'vess, the large island to the west of Niuzao Temple in Townlong Steppes. The bones of many a creature can be found in this large depression, picked clean by the monstrous mantid thundering across the hard ground.
Inhabitants Edit
Patch changes Edit