The subject of this article was either removed from World of Warcraft or is no longer available due to the devastating Cataclysm.

The in-game information in this article is kept purely for historical purposes and may not need to remain under any other categories.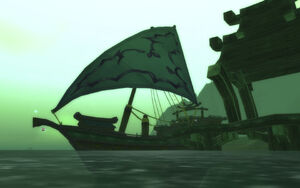 The Feathermoon Ferry was a night elven crewed vessel that allowed transportation between Feathermoon Stronghold and the Forgotten Coast in Feralas. Originally a human boat, it was upgraded to a night elf vessel and given a crew in Patch 2.3.0. No loading screen occurred during the trip because both destinations are close together and on the same continent server. As of

Cataclysm the boat was removed. See Sardor Isle.
Schedule
Edit
Patches and hotfixes
Edit

/

Patch 3.0.2 (14-Oct-2008): The crew has returned.


 Hotfix (2007-12-06): Crew removed, due to problems.


Patch 2.3.0 (13-Nov-2007): Model changed from a human ship to a night elf ship.


Patch 2.3.0 (13-Nov-2007): A crew was added.

Ad blocker interference detected!
Wikia is a free-to-use site that makes money from advertising. We have a modified experience for viewers using ad blockers

Wikia is not accessible if you've made further modifications. Remove the custom ad blocker rule(s) and the page will load as expected.