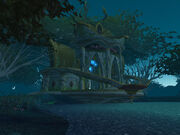 Farstrider Enclave[72, 32] in Ghostlands is a place for level 15-20 adventurers to find work from the Farstriders. It is located on the southern shore of Lake Elrendar, isolated from most of the rest of the friendly population of the Ghostlands. It is surrounded by Apparitions in the Lake, trolls of the Shadowpine tribe to the east and south and Lynxes on the land.
Occupants
Edit
Ad blocker interference detected!
Wikia is a free-to-use site that makes money from advertising. We have a modified experience for viewers using ad blockers

Wikia is not accessible if you've made further modifications. Remove the custom ad blocker rule(s) and the page will load as expected.