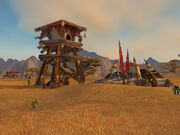 Far Watch Post
REDIRECT Template:Map/Coords is a small outpost of the Horde located just west of the bridge between Durotar and The Barrens. It is made up of a watchtower and an orc burrow with its assortment of guards and helpers. A riding wolf pen watched over by a pair of peons is located a bit to the south, but it contains more chickens than wolves. Overall, this is not a very accommodating spot, but necessary for the protection of Durotar from the Alliance as well as the centaur and quilboar threat of the Barrens.
Inhabitants
Edit
Trainers
Edit
None
Class Specific
Edit
Ad blocker interference detected!
Wikia is a free-to-use site that makes money from advertising. We have a modified experience for viewers using ad blockers

Wikia is not accessible if you've made further modifications. Remove the custom ad blocker rule(s) and the page will load as expected.