Ad blocker interference detected!
Wikia is a free-to-use site that makes money from advertising. We have a modified experience for viewers using ad blockers

Wikia is not accessible if you've made further modifications. Remove the custom ad blocker rule(s) and the page will load as expected.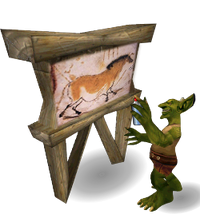 Fan art includes artistic and graphical renderings made by fans of Warcraft or World of Warcraft that draw inspiration from the Warcraft universe. Fan art is generally not officially endorsed or published by Blizzard or by one of its licensed publishers. Fan art is in contrast to professional art, which are works published through a professional licensed publisher by the original owners of the intellectual property.
Although fan art often accompanies fan fiction, fan art is not fan fiction which is specifically written material and is handled differently at WoWWiki. Please see the Image wiki templates category to make sure any fan art you upload has the proper licensing identification.
To see fan art on WoWWiki, see the Fan art category!
To see fan movies on WoWWiki, see the Fan movies category!
To read fan fiction on WoWWiki, see the Fan fiction and Player characters categories!
Although the WoWWiki fan fiction guidelines were designed for fan fiction some of the guidelines apply to fan art.
See also
Edit
External links
Edit
Submitting to

Blizzard Entertainment (US)
TERMS AND CONDITIONS of Fan Art Submissions to Blizzard Entertainment
(for fan art and wallpapers)

Blizzard Entertainment (US)
COMIC SUBMISSIONS

Blizzard Entertainment (US)
WORLD OF WARCRAFT SCREENSHOT SUBMISSION FORM
Last Updated: 12/13/11
Blizzard Entertainment (EU)
WORLD OF WARCRAFT SCREENSHOT SUBMISSION FORM
Last Updated: 06/01/11
News
WoW Insider
Student artist's Darkmoon carousel stuns Blizzard, earns internship
by Lisa Poisso Dec 13th 2012 at 12:00PM
WoW Insider
Breaking into Gaming: WoW player earns a summer inside Blizzard's art department
by Lisa Poisso Nov 15th 2012 at 12:00PM
WoW Official Game Site (US)
Did You Know . . . ? Submitting Media
by Nebu & Nethaera, Apr 10, 2012 8:00 AM PDT