Were you looking for the Faint Necrotic Crystal item?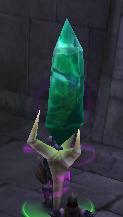 The Faint Necrotic Crystal can be found in the Undercity and Stormwind where a Pallid Horror has recently been slain. As an NPC/object, anyone can interact with it. It will disappear after a short time.
This item is involved in the following quests:
A Cracked Necrotic Crystal or Faint Necrotic Crystal is provided for the quest.
External links
Edit
Ad blocker interference detected!
Wikia is a free-to-use site that makes money from advertising. We have a modified experience for viewers using ad blockers

Wikia is not accessible if you've made further modifications. Remove the custom ad blocker rule(s) and the page will load as expected.