Faded Photograph

<Right Click to Read>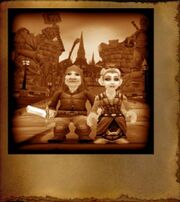 Faded Photograph is junk, which can safely be thrown away, as it is a fluff item obtained while doing the Linken quest line. When you examine the item it will display a picture of two gnomes in front of Stormwind, a male dressed as Link and a female dressed as Zelda from the Legend of Zelda series of videogames.
Faded Photograph is found in Un'Goro Crater inside A Small Pack at the bottom of one of the lakes [63, 68]. In order to obtain the pack, you must find a wrecked raft on the shore of the same lake, which will start the quest

 [52] It's a Secret to Everybody. This will then allow you to obtain the small pack.
External links
Edit