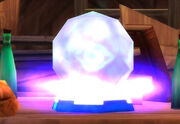 The Eye of Azora is located in the Tower of Azora in Elwynn Forest. [65, 69] It is a magical scrying sphere that allows the user to see the Tower of Ilgalar and its surroundings. Theocritus uses it to keep an eye on his rival, Morganth. The

 [Glyph of Azora] should allow the eye to have expanded powers, if placed on the Old Lion Statue near to the Tower of Ilgalar, but even better if placed atop a tower of Stonewatch Keep.
External links
Edit
Ad blocker interference detected!
Wikia is a free-to-use site that makes money from advertising. We have a modified experience for viewers using ad blockers

Wikia is not accessible if you've made further modifications. Remove the custom ad blocker rule(s) and the page will load as expected.