The Eye of Acherus is situated atop Acherus: The Ebon Hold in the Scarlet Enclave next to The Lich King.
It is involved in the following quest:
Abilities
Edit
Shroud

— Shrouds the Eye of Acherus from sight. Combat and actions break shroud.

Siphon of Acherus

— Targets a Scarlet Crusade structure and gathers tactical information associated with the building and its location.

Summon Ghouls On Scarlet Crusade

— Calls forth ghouls to attack aggressors, giving you time to get the Eye of Acherus to safety.
External links
Edit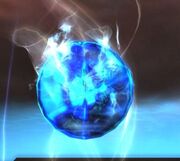 Ad blocker interference detected!
Wikia is a free-to-use site that makes money from advertising. We have a modified experience for viewers using ad blockers

Wikia is not accessible if you've made further modifications. Remove the custom ad blocker rule(s) and the page will load as expected.