Ad blocker interference detected!
Wikia is a free-to-use site that makes money from advertising. We have a modified experience for viewers using ad blockers

Wikia is not accessible if you've made further modifications. Remove the custom ad blocker rule(s) and the page will load as expected.

World of Warcraft has a game mechanism that grants you XP for exploring new areas (sometimes called regions, sub-regions, zones, or sub-zones).
Gained XP depends on area level from AreaTable.dbc If the player is within 5 levels of the area level, then the player gains Base XP.
Base XP has no known formula yet, but this table has been gathered from gameplay:
| Area Lvl | Base XP | | Area Lvl | Base XP | | Area Lvl | Base XP |
| --- | --- | --- | --- | --- | --- | --- | --- |
| 0 | 0 | | 24 | 195 | | 48 | 440 |
| 1 | 5 | | 25 | 200 | | 49 | 455 |
| 2 | 15 | | 26 | 210 | | 50 | 470 |
| 3 | 25 | | 27 | 220 | | 51 | 490 |
| 4 | 35 | | 28 | 230 | | 52 | 510 |
| 5 | 45 | | 29 | 240 | | 53 | 530 |
| 6 | 55 | | 30 | 245 | | 54 | 540 |
| 7 | 65 | | 31 | 250 | | 55 | 560 |
| 8 | 70 | | 32 | 255 | | 56 | 580 |
| 9 | 80 | | 33 | 265 | | 57 | 600 |
| 10 | 85 | | 34 | 270 | | 58 | 620 |
| 11 | 90 | | 35 | 275 | | 59 | 640 |
| 12 | 90 | | 36 | 280 | | 60 | 660 |
| 13 | 90 | | 37 | 285 | | 61 | 970 |
| 14 | 100 | | 38 | 285 | | 62 | 1000 |
| 15 | 105 | | 39 | 300 | | 63 | 1050 |
| 16 | 115 | | 40 | 315 | | 64 | 1080 |
| 17 | 125 | | 41 | 330 | | 65 | 1100 |
| 18 | 135 | | 42 | 345 | | 66 | 1130 |
| 19 | 145 | | 43 | 360 | | 67 | 1160 |
| 20 | 155 | | 44 | 375 | | 68 | 1200 |
| 21 | 165 | | 45 | 390 | | 69 | 1230 |
| 22 | 175 | | 46 | 405 | | 70 | 1250 |
| 23 | 185 | | 47 | 420 | | - | - |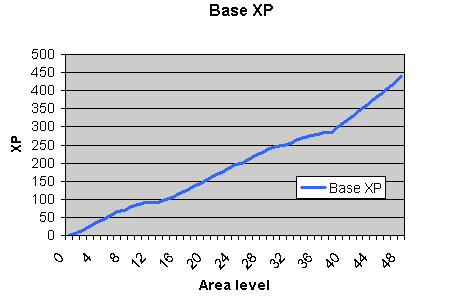 From this table you can write function GetBaseXP(area_level) which returns Base XP
If the player is more than 5 levels below the area level then the player gains less XP:
 percent = 100-(((player_level-area_level)-5)*5)
 if percent < 0 percent = 0
 if percent > 100 percent = 100
 XP = (GetBaseXP(area_level) * percent) / 100

If the player is more 5 levels above the area level then the player also gains less XP:
 XP = GetBaseXP(player_level+5)