Ad blocker interference detected!
Wikia is a free-to-use site that makes money from advertising. We have a modified experience for viewers using ad blockers

Wikia is not accessible if you've made further modifications. Remove the custom ad blocker rule(s) and the page will load as expected.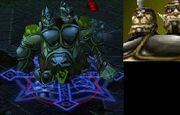 The Experiment Ogre was one of the Dalaran Wizard's Experiments in the Dungeons of Dalaran. It was locked below in a cell controlled by a lever. Kael'thas and Vashj released it onto the guards who watched over it. It has not been seen or heard of since.
Statistics in W3
Edit
4050 HP
500 MP
39-44 chaos melee damage
3 heavy armor
Abilities

Bloodlust (+ damage buff)
Devotion Aura (+ defense aura)