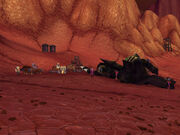 Expedition Point [71, 62] is an outpost of Honor Hold in eastern Hellfire Peninsula. It is strategically placed near both Zeth'Gor and the Legion Front, and requires aid in fighting both fel orcs and demons.
The camp is situated around the remains of a fel reaver; Alliance soldiers can be found mining the metal of the fel reaver.
Supply Officer Shandria is the only General Goods vendor for the Alliance in the whole of Hellfire Peninsula.
Ad blocker interference detected!
Wikia is a free-to-use site that makes money from advertising. We have a modified experience for viewers using ad blockers

Wikia is not accessible if you've made further modifications. Remove the custom ad blocker rule(s) and the page will load as expected.