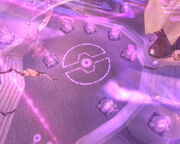 The Exodar Holographic Emitter is located in the Vault of Lights in the Exodar. It shows information about the various Burning Legion demon projections. The information begins everytime a certain group of draenei NPCs touring the area approach each hologram — the emitters state facts about the particular demon like its name, species, affiliation, function, and two descriptives.
External links
Edit
Ad blocker interference detected!
Wikia is a free-to-use site that makes money from advertising. We have a modified experience for viewers using ad blockers

Wikia is not accessible if you've made further modifications. Remove the custom ad blocker rule(s) and the page will load as expected.