This article or section contains

lore

taken from the

Warcraft RPG

books, and thus is not necessarily canon.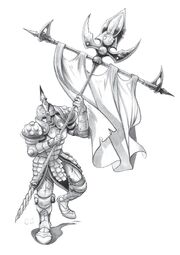 Battlefields are bloody places, but they are also the proving grounds of heroes. Among the many legendary feats of bravery are the deeds of the
exemplars
: men and women who strike fear into the hearts of their enemies through intimidation and demoralization. They also inspire courage in their allies, holding their banners high and charging into battle, shouting encouragement to those who ride beside them.
To be an exemplar is to sacrifice a great deal of freedom in pursuit of a path that's narrower than a warrior's or paladin's. However, few individuals are as honored as an exemplar, as having a capable exemplar in an army's midst can mean the difference between glorious victory and bloody defeat.
Exemplars carry banners into battle, which are used to guide the movement of troops in mass battles. The banners may depict the emblem of a family, religious sect, adventuring party, town or nation. They are typically made of heavy cloth. The exemplar's conviction strengthens his standard, and by waving his flag and shouting encouragement he can rally his allies to overcome their fear. They are able to carry the standard in one hand, while fighting with a one-handed weapon in the other.
Paladins in particular are fond of this prestige class, as the honors that are often bestowed on exemplars are compatible with the ideals of the paladin class. The most common source of exemplars is the humans of Stormwind. A few warriors disparage them as "not being real fighters," but most honor their service, including opposing factions (which hunt them down on the battlefield).
Banners are used to identify and guide the movement of troops in mass battles. They may depict the emblem of a family, religious sect, adventuring party, town or nation. The exemplar is inspiring to his allies and terrifying to his enemies. The exemplar can rally his allies to overcome their fear, he can wave his flag and shout encouragement. All allies within a 120-foot radius can hear the exemplar's words if he chooses, regardless of the tumult and ambient noise that surrounds him. This ability does not, however, penetrate magic silence effects or other spell-like or supernatural abilities that control sound. The exemplar may hold his faction's battle standard in one hand, and fight with a one-handed weapon in the other. The exemplar may raise his flag and fill it with a holy light that blinds the enemy. While holding, the exemplar may call upon a mystical force known as the battlewind to share healing with his stricken allies.APG 50-52