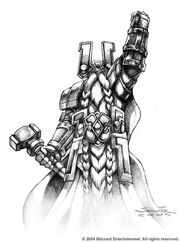 The epic priest is a paragon of his ideals, a vessel which his faith pools and spreads like wine overflowing form a chalice. He bolsters his allies to amazing heights and brings non-believers low with divine wrath. Where he walks, all feel his presence. He focuses on increasing his spellcasting potential. He knows that metamagic feats can make even low-level spells potent.
Wisdom is, of course, his paramount ability. If he must improve himself, he improves his constitution. Constitution improves his staying power and charisma increases his turning capability.[1]
References
Edit
Ad blocker interference detected!
Wikia is a free-to-use site that makes money from advertising. We have a modified experience for viewers using ad blockers

Wikia is not accessible if you've made further modifications. Remove the custom ad blocker rule(s) and the page will load as expected.