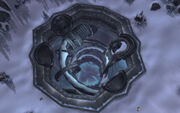 Engine of the Makers[40, 56] is a deep, tunnel-like "engine" in the Foot Steppes.
The Engine of the Makers, like all the massive machinery around the Storm Peaks, is actually part of the Forge of Wills.[1]
At the bottom of the shaft, encased in a pillar of ice, stands a mysterious device that seems to be spouting cold air. The enigma is called Norgannon's Binding and is used in the fusion of Norgannon's Shell and Core.
References
Edit
Ad blocker interference detected!
Wikia is a free-to-use site that makes money from advertising. We have a modified experience for viewers using ad blockers

Wikia is not accessible if you've made further modifications. Remove the custom ad blocker rule(s) and the page will load as expected.