Ad blocker interference detected!
Wikia is a free-to-use site that makes money from advertising. We have a modified experience for viewers using ad blockers

Wikia is not accessible if you've made further modifications. Remove the custom ad blocker rule(s) and the page will load as expected.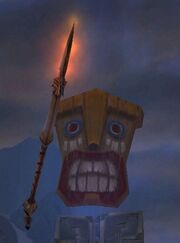 Enchanted tikis are magically animated voodoo masks created by trolls to serve their masters. These creatures has no loyalties and simply follow the commands of its creator.
A weapon used as support to battle.
A magical floating mask with a floating weapon, used by the Drakkari tribe as soldiers
A companion used by the darkspear tribe with 3 changing models of the mask