Enchanted Lantern

Use: Teaches you how to summon this companion.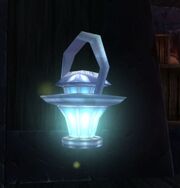 The Enchanted Lantern is a companion pet craftable only by Horde enchanters, however it can be traded to the Alliance. The Alliance have a similar companion pet [Magic Lamp] that can be traded to the to the Horde too. It is currently the only companion pet that can be created by means of Horde enchanters.
Crafted by
Patches and hotfixes
Edit
See also
Edit
External links
Edit
Item
Summoning spell
Battle pet
Ad blocker interference detected!
Wikia is a free-to-use site that makes money from advertising. We have a modified experience for viewers using ad blockers

Wikia is not accessible if you've made further modifications. Remove the custom ad blocker rule(s) and the page will load as expected.