Enchanted Fey Dragon

Item Level

20

Binds when picked up


(Account-wide)

In-Game Shop
Requires level 20
Requires Apprentice Riding
Use: Teaches you how to summon this mount. This mount changes depending on your Riding skill and location.
"This majestic creature is Brightwing's older brother. He affirms that she was, in fact, adopted."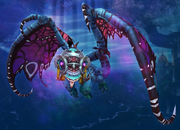 Make an exotic and stylish statement whenever and wherever you fly with the Enchanted Fey Dragon mount. This mysterious and magical creature lives for excitement and has a zeal for adventure. True to its characteristic flair, the Enchanted Fey Dragon shifts its skin color on a whim, making big gatherings of these mystic beasts an awesome sight to behold.
The Enchanted Fey Dragon is a new fey dragon mount released by Blizzard on November 21, 2013. It can be bought with real money for the common price of $25/€20. 
Description
Edit
It looks good in every color
Entrusted with protecting the Emerald Dream, the Enchanted Fey Dragon absorbs magic and exudes style—with a chroma-shifting twist. Saddle up on one of these iridescent sprites and enjoy the instant street (and sky) cred that comes with being one of the last bastions of cool.
Ready to fly!
The Enchanted Fey Dragon will be yours immediately after completing your purchase. It continually changes colors as you ride it!
Everyone gets one!
Once it's activated, the Enchanted Fey Dragon will be applied to all present and future characters on a single Battle.net account. It will appear in each character's pet and mount journal.
Automatically upgrades
The Enchanted Fey Dragon automatically scales to the fastest riding skill known by each character. If they aren't high enough level to use a flying mount, it will still be usable as a ground mount.
Purchased from
Patch changes
Edit
See also
Edit
External links
Edit

Note: This is a generic section stub. You can

help expand it

by clicking

 Edit to the right of the section title.
Item
Summoning spell

Battle.net Shop (US)
Enchanted Fey Dragon (World of Warcraft® In-Game Mount)
USD 25.00

Battle.net Shop (US)
Alterac Brew Pup and Enchanted Fey Dragon
USD 30.00 (limited time?)

Battle.net Shop (EU)
Enchanted Fey Dragon (World of Warcraft® In-Game Mount)
EUR 20.00

Battle.net Shop (EU)
Alterac Brew Pup and Enchanted Fey Dragon
EUR 26.00 (limited time?)