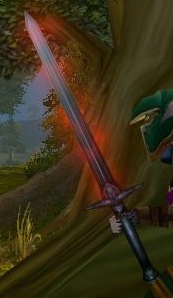 The enchant permanently enchant a melee weapon to do 2 additional points of damage to beasts. Despite the low attack power upgrade, this enchant remains popular because it is the cheapest enchant that provides a weapon glow.
 [Runed Copper Rod]

 [Formula: Enchant Weapon - Minor Beastslayer] is a world drop from mobs as low as level 11 and as high as level 26, though it is most common between level 15 and 20.
Similar enchantments
Edit
External links
Edit
Ad blocker interference detected!
Wikia is a free-to-use site that makes money from advertising. We have a modified experience for viewers using ad blockers

Wikia is not accessible if you've made further modifications. Remove the custom ad blocker rule(s) and the page will load as expected.