103,155pages on
this wiki
Talk

0
Not yet released!

This article or section includes information about announced content that has not been released yet. The expected release date is unknown.
Please remove this template when the content has gone live.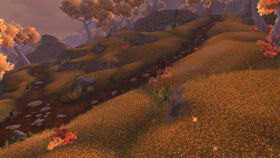 The Emperor's Approach leads down from the Golden Stair in the northern part of the Vale of Eternal Blossoms. This appears to be a phased area, as the area is initially mob-free. The named pandaren can be found near the base of the Golden Pagoda, down the path and to the east.
Inhabitants
Services
NPCs
Mobs (added during quest phase)
Patch changes