Elwynn Lamb

Use: Teaches you how to summon this companion.
Vendor 40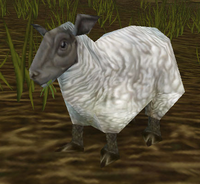 Elwynn Lamb is sold by the Argent Tournament vendor

 Corporal Arthur Flew <Stormwind Quartermaster> in Icecrown for 40

.
This companion can only be purchased by a player who is a Champion of Stormwind.
It is not Bind on Pickup and can therefore be traded with other players including those of the opposing faction.
The lamb has an animation where it is randomly attacked by an Elwynn Forest Wolf, where it kills the lamb in one bite, snoozes for a few seconds, then despawns.

The wolf uses the model of a saber worg rather than that of a wolf found in Elwynn Forest.

The lamb has an occasional animation of eating grass.
Patches and hotfixes
Edit

Patch 3.1.0 (14-Apr-2009): Added

External links
Edit

WarcraftPets
Ad blocker interference detected!
Wikia is a free-to-use site that makes money from advertising. We have a modified experience for viewers using ad blockers

Wikia is not accessible if you've made further modifications. Remove the custom ad blocker rule(s) and the page will load as expected.