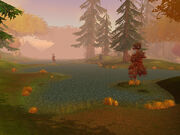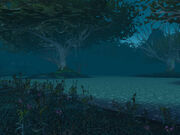 Lake Elrendar is located in southeastern Eversong Woods and crosses into the Ghostlands. Quests are geared towards those in the Ghostlands level range (10-20). Many people drowned in the southernmost part of the lake, and it is now haunted by wraiths of the past. The Farstriders readily accept the aid of those willing to hunt the undead.
The large Elrendar River flows out of Lake Elrendar. The lake also has a small island with a cave that is involved in a paladin quest.
Ad blocker interference detected!
Wikia is a free-to-use site that makes money from advertising. We have a modified experience for viewers using ad blockers

Wikia is not accessible if you've made further modifications. Remove the custom ad blocker rule(s) and the page will load as expected.