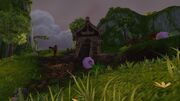 Ella[31.5, 58] is a farmer and aspiring brewer associated with the Tillers. She can be found at her farm on the outskirts of the Heartland in the Valley of the Four Winds, surrounded by her many kittens. Her love of cats is shadowed by grief at the recent loss of her parents. She is a normal and daily quest giver, and players may raise their reputation with her by completing her tasks.
She loves Jade Cats and Shrimp Dumplings. When she becomes your best friend, she gives you a kitten named Luna.
Patch changes
Edit
External links
Edit
NPC
Faction
Ad blocker interference detected!
Wikia is a free-to-use site that makes money from advertising. We have a modified experience for viewers using ad blockers

Wikia is not accessible if you've made further modifications. Remove the custom ad blocker rule(s) and the page will load as expected.