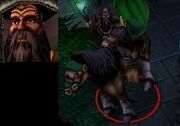 Elite Hyrdomancer is a level 8 class of human in the Kul Tiras army.
Statistics from Warcraft III
Edit
1890 HP
1000 MP
22-28 chaos ranged damage
6 heavy armor
Abilities

Crushing Wave
Blizzard
Lightning Shield
Brillance aura (Increase mana regeneration)
"The Founding of Durotar", Warcraft III: The Frozen Throne. Blizzard Entertainment. Theramore Isle.