Electromagnetic Gigaflux Reactivator

Item Level

37

44 Armor
+15 Intellect
+12 Spirit
Durability 50 / 50
Requires level 28
Use: Channels a bolt of lightning and hurls it towards all enemies in front of the caster causing 147 to 167 Nature damage. The caster is then surrounded by a barrier of electricity for 10 min. (30 Min Cooldown)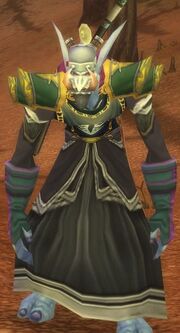 Electromagnetic Gigaflux Reactivator is an odd-looking cloth hat. The Use ability on it has a 30 minute cooldown.
Electromagnetic Gigaflux Reactivator drops from Sicco Thermaplugg (the endboss) in Gnomeregan.
The estimated drop rate is 8%.
External links
Edit
Ad blocker interference detected!
Wikia is a free-to-use site that makes money from advertising. We have a modified experience for viewers using ad blockers

Wikia is not accessible if you've made further modifications. Remove the custom ad blocker rule(s) and the page will load as expected.