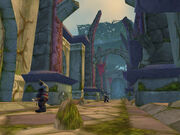 Eldreth Row is the outermost area of Dire Maul, located outside the instance portals and before the Broken Commons. It is a tall section of halls that makes up the front section of Eldre'Thalas, now partially ruined and overgrown. Numerous Gordok ogres patrol the area. The Dire Pool is located here.
Ad blocker interference detected!
Wikia is a free-to-use site that makes money from advertising. We have a modified experience for viewers using ad blockers

Wikia is not accessible if you've made further modifications. Remove the custom ad blocker rule(s) and the page will load as expected.