103,470pages on
this wiki
Talk

0
This article concerns content exclusive to Cataclysm.

This article should only contain officially released content, such as beta and press release content.
This information is subject to change at any time. (Note this tag should only be placed on major Cataclysm articles, until release.)
See WW:DNP for the official policy on posting unreleased content.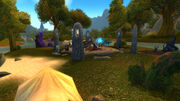 The Eastern Earthshrine[74.6, 18.4] is located on an island in the far northeast section of Stormwind City within the Stormwind City Outskirts. Sitting upon it are portals that lead to all the new Cataclysm zones as well as a portal to Tol Barad.
Inhabitants
Quest givers
NPCs
Notes
Players may only use a portal once they have started the quests for that particular zone.
Patch changes
External links