Earthen Guard

Item Level

65

2836 Armor
58 Block
+19 Stamina
Durability 120 / 120
Requires level 60
Equip: Increases defense rating by 11.
Equip: Increases the block value of your shield by 12.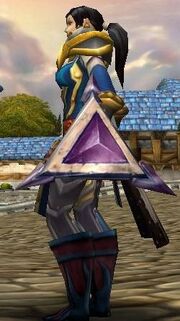 The Earthen Guard is an epic shield which give a bonus to stamina, defense, and shield block value.
The shield drops from Baron Kazum, who can be summoned from a Greater Windstone in Silithus 22%.
External links
Edit