Dusty Journal

<Right Click to Read>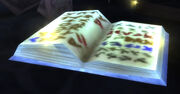 The Dusty Journal can be found on the ground in a house at Valgan's Field on the western shore of Lordamere Lake at [53.2, 28.1] and is a quest objective for

 [80] The Black Knight of Silverpine?.
Dusty Journal
Leafing through the book's crumbling pages reveals nothing more than descriptions of life on the Valgan farm. The changing of seasons, planting and harvesting of crops are noted, along with the births and deaths of children.
The entries end abruptly with a short description of the plague. None of the children described could have been old enough to complete training as a knight, if any survived the plague at all.
Patch changes
Edit
External links
Edit
Ad blocker interference detected!
Wikia is a free-to-use site that makes money from advertising. We have a modified experience for viewers using ad blockers

Wikia is not accessible if you've made further modifications. Remove the custom ad blocker rule(s) and the page will load as expected.