Ad blocker interference detected!
Wikia is a free-to-use site that makes money from advertising. We have a modified experience for viewers using ad blockers

Wikia is not accessible if you've made further modifications. Remove the custom ad blocker rule(s) and the page will load as expected.
Quest Tables
Edit
This is a list of all Duskwood quests in table format.
Quests which take place outside of the Duskwood are denoted by a

.
Quests which are part of a chain are denoted by

.
Level
Quest Name
Quest Giver
Begins
Prerequisite
18
 [18] 

Messenger to Darkshire (2)

 

Lord Ello Ebonlocke

Darkshire

Messenger to Darkshire

20
 [20] 

Raven Hill

 

Elaine Carevin

Darkshire
20
 [20] 

Jitters' Growling Gut

 

Jitters

Raven Hill

Raven Hill

20
 [20] 

Dusky Crab Cakes

 

Chef Grual

Darkshire

Jitters' Growling Gut

20
 [20] 

Return to Jitters

 

Chef Grual

Darkshire

Dusky Crab Cakes

21
 [21] 

Eight-Legged Menaces

 

Watcher Dodds

Yorgen Farmstead
21
 [21] 

Wolves at Our Heels

 

Lars

Hushed Bank
23
 [23] 

Deliveries to Sven

 

Elaine Carevin

Darkshire
24
 [24] 

Supplies from Darkshire

 

Abercrombie

Raven Hill Cemetery

The Hermit

24
 [24] 

Ghost Hair Thread

 

Madame Eva

Darkshire

Supplies from Darkshire

24
 [24] 

Return the Comb

 

Blind Mary

Darkshire

Ghost Hair Thread

24
 [24] 

Deliver the Thread

 

Madame Eva

Raven Hill Cemetery

Return the Comb

24
 [24] 

Zombie Juice

 

Abercrombie

Raven Hill Cemetery

Deliver the Thread

24
 [24] 

Gather Rot Blossoms

 

Tavernkeep Smitts

Darkshire

Zombie Juice

24
 [24] 

Juice Delivery

 

Tavernkeep Smitts

Darkshire

Gather Rot Blossoms

24
 [24] 

The Night Watch (1)

 

Commander Althea Ebonlocke

Darkshire
25
 [25] 

Seasoned Wolf Kabobs

 

Chef Grual

Darkshire
25
 [25] 

The Hermit

 

Madame Eva

Darkshire
25
 [25] 

The Totem of Infliction

 

Madame Eva

Darkshire
25
 [25] 

Sven's Revenge

 

Sven Yorgen

Hushed Bank

Deliveries to Sven

25
 [25] 

Sven's Camp

Mound of loose dirt
Yorgen Farmstead

Sven's Revenge

25
 [25] 

The Shadowy Figure

 

Sven Yorgen

Hushed Bank

Sven's Camp

25
 [25] 

The Shadowy Search Continues

 

Madame Eva

Darkshire

The Shadowy Figure

25
 [25] 

Inquire at the Inn

 

Clerk Daltry

Darkshire

The Shadowy Search Continues

25
 [25] 

Finding the Shadowy Figure

 

Tavernkeep Smitts

Darkshire

Inquire at the Inn

25
 [25] 

Return to Sven

 

Jitters

Raven Hill

Finding the Shadowy Figure

25
 [25] 

An Old History Book

An Old History Book
25
 [25] 

Look To The Stars

 

Viktori Prism'Antras

Darkshire

Look To The Stars

25
 [25] 

Look To The Stars (2)

 

Viktori Prism'Antras

Darkshire

Look To The Stars

25
 [25] 

Look To The Stars (3)

 

Blind Mary

Darkshire

Look To The Stars (2)

26
 [26] 

Crime and Punishment

 

Councilman Millstipe

Darkshire
26
 [26] 

The Night Watch (2)

 

Commander Althea Ebonlocke

Darkshire

The Night Watch (1)

27
 [27] 

Ghoulish Effigy

 

Abercrombie

Raven Hill Cemetery

Juice Delivery

28
 [28] 

The Legend of Stalvan

 

Madame Eva

Darkshire
28
 [28] 

The Legend of Stalvan (2)

 

Clerk Daltry

Darkshire

The Legend of Stalvan

28
 [28] 

The Legend of Stalvan (3)

Old Footlocker
Moonbrook, Westfall

The Legend of Stalvan (2)

28
 [28] 

The Legend of Stalvan (4)

 

Clerk Daltry

Darkshire

The Legend of Stalvan (3)

28
 [28] 

The Legend of Stalvan (5)

 

Innkeeper Farley

Goldshire, Elwynn Forest

The Legend of Stalvan (4)

28
 [28] 

The Legend of Stalvan (6)

 

Caretaker Folsom

Stormwind

The Legend of Stalvan (5)

28
 [28] 

The Legend of Stalvan (7)

Sealed Crate
Stormwind

The Legend of Stalvan (6)

28
 [28] 

The Legend of Stalvan (8)

 

Marshal Haggard

Eastvale Logging Camp, Elwynn Forest

The Legend of Stalvan (7)

28
 [28] 

The Legend of Stalvan (9)

 

Marshal Haggard

Eastvale Logging Camp, Elwynn Forest

The Legend of Stalvan (8)

28
 [28] 

The Legend of Stalvan (10)

 

Tavernkeep Smitts

Darkshire

The Legend of Stalvan (9)

28
 [28] 

The Legend of Stalvan (11)

 

Clerk Daltry

Darkshire

The Legend of Stalvan (10)

28
 [28] 

The Legend of Stalvan (12)

 

Commander Althea Ebonlocke

Darkshire

The Legend of Stalvan (11)

28
 [28] 

Worgen in the Woods

 

Calor

Darkshire
28
 [28] 

Proving Your Worth

 

Sven Yorgen

Hushed Bank

Return to Sven

29
 [29] 

Seeking Wisdom

 

Sven Yorgen

Hushed Bank

Proving Your Worth

29
 [29] 

The Doomed Fleet

 

Bishop Farthing

Cathedral Square, Stormwind

Seeking Wisdom

29
 [29] 

Lightforge Iron

 

Glorin Steelbrow

Menethil Harbor, Wetlands

The Doomed Fleet

29
 [29] 

The Lost Ingots

Waterlogged Chest
Menethil Bay, Wetlands

Lightforge Iron

29
 [29] 

Blessed Arm

 

Glorin Steelbrow

Menethil Harbor, Wetlands

The Lost Ingots

29
 [29] 

Armed and Ready

 

Grimand Elmore

Dwarven District, Stormwind

Blessed Arm

29
 [29] 

Worgen in the Woods (2)

 

Calor

Darkshire

Worgen in the Woods

30
 [30] 

Ogre Thieves

 

Abercrombie

Raven Hill Cemetery

Ghoulish Effigy

30
 [30] 

Note to the Mayor

 

Abercrombie

Raven Hill Cemetery

Ogre Thieves

30
 [30] 

Translate Abercrombie's Note

 

Lord Ello Ebonlocke

Darkshire

Note to the Mayor

30
 [30] 

Wait for Sirra to Finish

 

Sirra Von'Indi

Darkshire

Translate Abercrombie's Note

30
 [30] 

Translation to Ello

 

Sirra Von'Indi

Darkshire

Wait for Sirra to Finish

30
 [30] 

Bride of the Embalmer

 

Lord Ello Ebonlocke

Darkshire

Translation to Ello

30
 [30] 

Look To The Stars (4)

 

Viktori Prism'Antras

Darkshire

Look To The Stars (3)

30
 [30] 

The Night Watch (3)

 

Commander Althea Ebonlocke

Darkshire

The Night Watch (2)

31
 [31] 

Worgen in the Woods (3)

 

Calor

Darkshire

Worgen in the Woods (2)

31
 [31] 

Worgen in the Woods (4)

 

Calor

Darkshire

Worgen in the Woods (3)

32G
 [32G] 

Morbent Fel

 

Sven Yorgen

Hushed Bank

Armed and Ready

35
 [35] 

The Weathered Grave

A Weathered Grave
Raven Hill Cemetery
35
 [35] 

Morgan Ladimore

 

Sirra Von'Indi

Darkshire

The Weathered Grave

35
 [35E] 

Mor'Ladim

 

Commander Althea Ebonlocke

Darkshire

Morgan Ladimore

35
 [35] 

The Daughter Who Lived

 

Commander Althea Ebonlocke

Darkshire

Mor'Ladim

35
 [35] 

A Daughter's Love

 

Watcher Ladimore

Darkshire

The Daughter Who Lived

35
 [35] 

The Legend of Stalvan (13)

 

Commander Althea Ebonlocke

Darkshire

The Legend of Stalvan (12)

30
 [30] 

The Carevin Family

 

Clerk Daltry

Darkshire

The Caravan Road

30
 [30] 

The Scythe of Elune

 

Jonathan Carevin

Darkshire

The Carevin Family

30
 [30] 

Answered Questions

 

Jonathan Carevin

Darkshire

The Scythe of Elune

30
 [30] 

The Missing Diplomat (5)

 

Watcher Backus

Darkshire

The Missing Diplomat (4)

30
 [30] 

The Missing Diplomat (6)

 

Watcher Backus

Darkshire

The Missing Diplomat (5)

42
 [42] 

Vital Supplies

 

High Sorcerer Andromath

Stormwind City
45
 [45] 

Supplies for Nethergarde

 

Watchmaster Sorigal

Darkshire

The Missing Diplomat (5)

42
 [42] 

Nothing But The Truth

 

Deathstalker Zraedus

Beggar's Haunt
42
 [42] 

Nothing But The Truth (2)

 

Apothecary Faustin

Beggar's Haunt
42
 [42] 

Nothing But The Truth (3)

 

Apothecary Faustin

Beggar's Haunt
42
 [42] 

Nothing But The Truth (4)

 

Deathstalker Zraedus

Beggar's Haunt
Notable Quest progressions in Duskwood
Edit
Look To The Stars
Edit
The Night Watch
Edit
The Hermit
Edit
The Legend of Stalvan
Edit
Main article: The Legend of Stalvan quest chain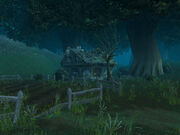 The Weathered Grave
Edit
Worgen in the Woods
Edit
Main article: Worgen in the Woods quest chain
Morbent Fel
Edit
Main article: Morbent Fel quest chain
Quests involving Duskwood
Edit