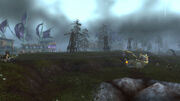 Duskmist Shore[29.4, 77.3] is where the Forsaken have begun their assault on Gilneas. Two of their warships are docked, letting loose footsoldiers and catapults along the shore to attack both the Hammond and Allen Farmsteads, while their infantry and abominations move against Duskhaven.
The Forsaken attack may well have been successful, were it not for the untimely occurrence of the Cataclysm. The Cataclysm wipes out the majority of their forces, destroying much of the coastline and capsizing their entire fleet at the Shore.
Inhabitants
Edit
On boats
Western end
After

Leader of the Pack
Patch changes
Edit
External links
Edit
Ad blocker interference detected!
Wikia is a free-to-use site that makes money from advertising. We have a modified experience for viewers using ad blockers

Wikia is not accessible if you've made further modifications. Remove the custom ad blocker rule(s) and the page will load as expected.