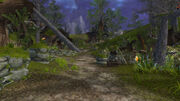 The Dunwald Ruins[49, 70] was once the home of the Dunwald branch of the Wildhammer Clan in the Twilight Highlands. The sprawling ruins sits in the southerwestern part of the zone between Crushblow and the Crucible of Carnage. Attacked and sacked by the Twilight's Hammer clan, only a few survivors remain, hidden within the various sections of the ruins. Scores of clansmen roam the landscape, and with the lumbering ettin and flying drakes, the ruins are dangerous for the unwary.


The Dunwald Ruins consists of the Dunwald Holdout[47, 66], Dunwald Hovel[46.3, 59.3], Dunwald Market Row[47, 73.2], and the Dunwald Town Square[50.2, 71.1].
Inhabitants
Edit
Unless otherwise noted on the area pages, these mobs can be found throughout the ruins.
Patch changes
Edit
External links
Edit
Ad blocker interference detected!
Wikia is a free-to-use site that makes money from advertising. We have a modified experience for viewers using ad blockers

Wikia is not accessible if you've made further modifications. Remove the custom ad blocker rule(s) and the page will load as expected.