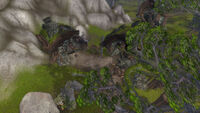 Dunwald Hovel[46.3, 59.3] is located very near the Crucible of Carnage and the Black Drake Roost in the Twilight Highlands. It is part of the Dunwald Ruins, the remains of a Wildhammer town attacked and sacked by the Twilight's Hammer clan. Many of the clan members still prowl the roads, looking for survivors or the curious, while bodies of the Wildhammer dwarves lie scattered about. Only one survivor remains, Donnelly Dunwald, and he is very concerned about the well-being of his gryphon, Beak.
Inhabitants
Edit
For a list of general mobs, see the Dunwald Ruins.
Patch changes
Edit
External links
Edit
Ad blocker interference detected!
Wikia is a free-to-use site that makes money from advertising. We have a modified experience for viewers using ad blockers

Wikia is not accessible if you've made further modifications. Remove the custom ad blocker rule(s) and the page will load as expected.