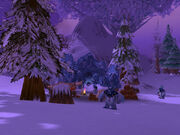 Dun Mandarr is a small base nearby an icy cavern in eastern Winterspring. The camp is overrun by ferocious moonkin and was set up by Jaron Stoneshaper, its dwarven origin obvious from the linguistic qualities of the cave's name. Jaron had discovered a Blue-feathered Amulet, which enraged the wildkin and caused them to chase Jaron off and destroy his camp.
Ad blocker interference detected!
Wikia is a free-to-use site that makes money from advertising. We have a modified experience for viewers using ad blockers

Wikia is not accessible if you've made further modifications. Remove the custom ad blocker rule(s) and the page will load as expected.