Druids for the Ethical and Humane Treatment of Animals (a.k.a D.E.H.T.A.) is an organization based primarily in Northrend and is a radical portion of the Cenarion Expedition. The organization was created in direct opposition to master hunter Hemet Nesingwary. They are opposed to what is essentially the decimation of the wildlife caused by Nesingwary and his hunters, and they also give players the chance to battle Hemet's hunters.
If you kill any animal in the Borean Tundra, including hostile ones, you will be given the debuff Animal Blood. The debuff causes D.E.H.T.A. associated NPCs to become hostile and attack you on sight, chasing and screaming insults at you until it wears off. This debuff is easily curable by jumping in a body of water.
Quests
D.E.H.T.A. quest series (in Borean Tundra):
Achievement:

 D.E.H.T.A.'s Little P.I.T.A. (10

) - awarded for completing all the quest series.
Miscellaneous quests
Mammoth chain
 [72] Help Those That Cannot Help Themselves - free 8  Trapped Mammoth Calves.
 [72] Khu'nok Will Know - escort mammoth calf to  Khu'nok the Behemoth.
 [72] Kaw the Mammoth Destroyer - obtain [Kaw's War Halberd].
Caribou chain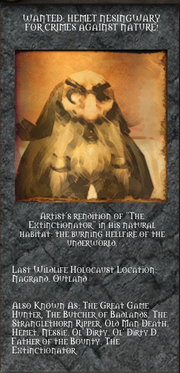 [72] Unfit for Death - trap 8  Nesingwary Trappers.
 [72] The Culler Cometh - kill  Karen "I Don't Caribou" the Culler.
Clams chain
Once the above quest chains are complete, you can take on the evil mastermind behind the exploitation of the Tundra.
Harold Lane (final boss)

 [72] The Assassination of Harold Lane - Kill
 Harold Lane.
Rewards
Choose one of...
Achievement:

 D.E.H.T.A.'s Little P.I.T.A. (10

)
Known members
Trivia
D.E.H.T.A. is a reference to, and possibly a parody of, the real world P.E.T.A. (People for the Ethical Treatment of Animals; there also exists a darker parody organization, People for the Eating of Tasty Animals, which Hemmet would doubtlessly be a member of were it real).
In WoW, Opus mentions a "G.E.T.A." (presumably Goblins or Gnomes for the Ethical Treatment of Animals) and their investigation of the goblin Kibler. The "flavor text" of Empty Worg Pup Cage says in part "Don't worry, it is G.E.T.A. approved."