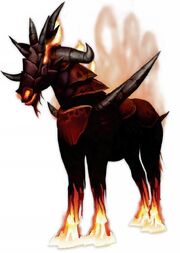 The dreadsteed of Xoroth is the epic warlock ground mount learned at level 40. The ability requires Journeyman riding skill from the riding trainer; the quest chain is no longer mandatory.
Xoroth is the home planet of these fiery, horse-like demons, who serve as the mounts of the Dreadlords. The finest belong to the Nathrezim Dreadlord, Lord Hel'nurath the Stable Keeper.
Modified by
Edit
Talents
Main article: Dreadsteed quest (removed)
Warlocks were once required to complete a long quest chain in order to acquire this mount.
Patch changes
Edit
External links
Edit

Other languages
• German