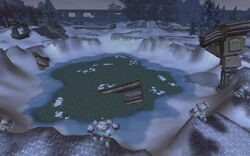 Drak'Mabwa is the area south of Altar of Rhunok in Zul'Drak, [53.6, 44.8] that has become a water filled crater due to the Prophet of Rhunok absorbing too much of Rhunok's power too quickly.
The pool itself was created by the collapsed aqueduct system used by the Drakkari.
Previous to the crater this area was likely flat land, why it was named Drak'Mabwa is unknown.
Ad blocker interference detected!
Wikia is a free-to-use site that makes money from advertising. We have a modified experience for viewers using ad blockers

Wikia is not accessible if you've made further modifications. Remove the custom ad blocker rule(s) and the page will load as expected.