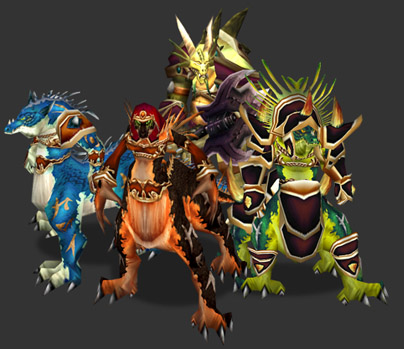 Dragonkin (aka dragon type)[1] (MG 188) are all creatures descended from and including dragons. A dragon is a reptilian creature, usually winged, with magical or unusual abilities.[1] (MG 188) Sometimes refers specifically to a type of creature closely related to a dragon, but usually lacking wings or full dragon abilities, powers, and spells. Nearly all dragonkin belong to one of the main or lesser dragonflights.
Characteristics in World of Warcraft
Edit
Reptilian and almost always have a tail.
Scaly skin that is usually skinnable.
Dragon scales often have magical properties and are highly valuable to craftsmen.
Have sharp claws.
Semi-intelligent to very intelligent.
Some can fly and usually have bat-like wings in that case.
Some have a breath-weapon.
See also
Edit
External links
Edit

WoWDB
NPCs > Dragonkin

Wowhead
NPCs > Dragonkin
Ad blocker interference detected!
Wikia is a free-to-use site that makes money from advertising. We have a modified experience for viewers using ad blockers

Wikia is not accessible if you've made further modifications. Remove the custom ad blocker rule(s) and the page will load as expected.