This article concerns content exclusive to Cataclysm.

* This article should only contain officially released content, such as beta and press release content.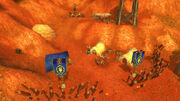 Dragon's Mouth is a new Alliance camp in the Badlands established after the Cataclysm. It is situated northeast of Camp Cagg and southeast of New Kargath. It appears to have a flight path, but the mailbox is currently non-functioning.
NPCs
Flight Paths
Subzones of Badlands

Agmond's End · Angor Fortress · Apocryphan's Rest · Bloodwatcher Point · Camp Boff · Camp Cagg · Camp Kosh · Camp Wurg · Dragon's Mouth · Dustbelch Grotto · The Dustbowl · Dustwind Dig · Dustwind Gulch · Fuselight · Fuselight-by-the-Sea · Hammertoe's Digsite · The Hidden Clutch  · Lethlor Ravine · The Maker's Terrace · Mirage Flats · New Kargath · Rhea's Camp · Ruins of Kargath · Scar of the Worldbreaker · Tomb of the Watchers · Uldaman

(

Uldaman Entrance

)

 · Valley of Fangs

Badlands category