This article concerns content exclusive to Cataclysm.

This article should only contain officially released content, such as beta and press release content.
This information is subject to change at any time. (Note this tag should only be placed on major Cataclysm articles, until release.)
See WW:DNP for the official policy on posting unreleased content.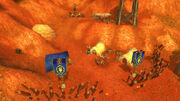 Dragon's Mouth is a new Alliance camp in the Badlands established after the Cataclysm. It is situated northeast of Camp Cagg and southeast of New Kargath. It appears to have a flight path, but the mailbox is currently non-functioning.
NPCs
Flight Paths
Subzones of Badlands

Agmond's End · Angor Fortress · Apocryphan's Rest · Bloodwatcher Point · Camp Boff · Camp Cagg · Camp Kosh · Camp Wurg · Dragon's Mouth · Dustbelch Grotto · The Dustbowl · Dustwind Dig · Dustwind Gulch · Fuselight · Fuselight-by-the-Sea · Hammertoe's Digsite · The Hidden Clutch  · Lethlor Ravine · The Maker's Terrace · Mirage Flats · New Kargath · Rhea's Camp · Ruins of Kargath · Scar of the Worldbreaker · Tomb of the Watchers · Uldaman

(

Uldaman Entrance

)

 · Valley of Fangs

Badlands category