The subject of this article was either removed from World of Warcraft or is no longer available due to the devastating Cataclysm.

The in-game information in this article is kept purely for historical purposes and may not need to remain under any other categories.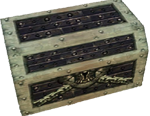 The Document Chest can be found on the Darkcloud Pinnacle in Thousand Needles.
Objective of
Edit
Contains [Secret Note #1], [Secret Note #2], and [Secret Note #3] for the quest

 [28] Grimtotem Spying.
External links
Edit