Source information needed!

This article is lacking citations and/or sources.
Please see WoWWiki:Citation for information on how to add citations.
Blizzard announced at Blizzcon this year that they were working with Dell to bring out a new WoW themed computer. Starting on Tuesday, Dec. 11, gamers were able to purchase a premium edition of the Dell XPS M1730 that is emblazoned with custom World of Warcraft artwork and includes a variety of extras.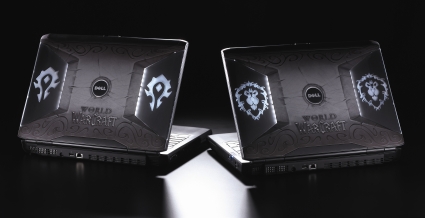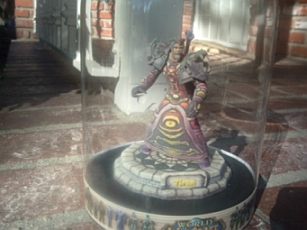 Customers who buy this special-edition laptop will receive a special "Quest Envelope" that contains access to items such as a "Golden Ticket" from FigurePrints, a company that creates custom figurines of players' individual World of Warcraft players.

Other unique features include original art by Blizzard artists on the back of the LCD display, World of Warcraft itself and The Burning Crusade expansion pack pre-loaded on the system, original desktop background artwork and screensavers and a World of Warcraft-themed backpack that includes a strategy guide and other expansion packs.
The XPS M1730 is one of Dell's premier gaming notebooks. It's a 17-inch HD system with dual Nvidia SLI graphics (that is, 2 graphics cards running in tandem) and a special AEGEIA PhsyX accelerator chip. The WoW-themed edition will retail for $4,500, about an $1,800 premium over the base M1730.

Full Specs:
   * Intel Core 2 Duo Processor T7500
   * 2GB Memory 667MHz
   * 17inch UltraSharp TrueLife WUXGA
   * 512MB Dual NVIDIA GeForce 8700M GT w/ NVIDIA SLI
   * 200GB HDD
   * Blu-ray
   * Intel Pro Wireless 3945 a/g Mini Card
   * Vista Ultimate
   * Logitech Game Panel
   * Ageia PhyX Accelerator
   * 1 year warranty.


Included in the prize package:
   * World of Warcraft game retail box
   * The Burning Crusade expansion retail box
   * Warcraft Battlechest retail box which includes Warcraft III & Brady Strategy Guide, 
     Warcraft III: Frozen Throne Expansion Set & Strategy Guide
   * World of Warcraft: Tides of Darkness novel
   * World of Warcraft: Rise of the Horde novel
   * World of Warcraft TCG: Heroes of Azeroth starter deck box
   * World of Warcraft TCG: Through The Dark Portal starter deck box
   * World of Warcraft: Behind the Scenes DVD "The Making of WoW"
   * World of Warcraft Soundtrack on audio CD
   * Brady Games World of Warcraft Master Guide 2nd Edition
   * Brady Games World of Warcraft The Burning Crusade
   * 1 World of Wacraft Beta Club card that can be used to access 5 future, unannounced WoW expansions
   * 1 upgrade Certificate to flag your account as Collector's Edition (both WoW & TBC) and 
     allows you to claim the in-game pets from each game
   * 1 Golden Ticket redeemable with FigurePrints to have a 3D action figure of your 
     in-game character created
   * 1 XPS backpack

Ad blocker interference detected!
Wikia is a free-to-use site that makes money from advertising. We have a modified experience for viewers using ad blockers

Wikia is not accessible if you've made further modifications. Remove the custom ad blocker rule(s) and the page will load as expected.