104,173pages on
this wiki
Talk

0
This article concerns content exclusive to Cataclysm.

This article should only contain officially released content, such as beta and press release content.
This information is subject to change at any time. (Note this tag should only be placed on major Cataclysm articles, until release.)
See WW:DNP for the official policy on posting unreleased content.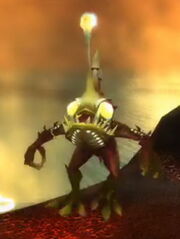 A deep sea murloc is a species of murloc that presumably lives in the ocean depths, likely in locations such as the Vashj'ir. They are blind and strongly resemble anglerfish, with sharp fangs and bioluminescent growths protruding from their foreheads. They might be related to the mur'gul.
In the Throne of the Tides dungeon these deep see murlocs appere to be serving the naga, though it is unclear if they serve by choice or are forced to.

See also