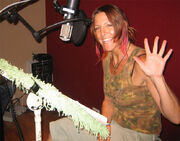 Debi Mae West is an American voice actress. She won a Spike Video Game Award for voicing Meryl Silverburgh in Metal Gear Solid 4: Guns of the Patriots. She is mostly known for her video game roles as Maiev Shadowsong in Warcraft III: The Frozen Throne[1] and World of Warcraft. Additional works include the narration of the original World of Warcraft cinematic, and the voice of the female night elf in World of Warcraft.[2][3]
External links
Edit
Reference list
Edit
Ad blocker interference detected!
Wikia is a free-to-use site that makes money from advertising. We have a modified experience for viewers using ad blockers

Wikia is not accessible if you've made further modifications. Remove the custom ad blocker rule(s) and the page will load as expected.