The subject of this article has been removed from World of Warcraft.

This includes items and quests that can no longer be obtained.
The in-game information in this article is kept purely for historical purposes and should probably not be under any other categories.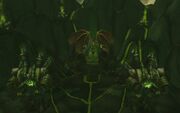 Deathforge Automaton
were once found at the
Throne of Kil'jaeden
in
Hellfire Peninsula
[61.4, 25.7]
. In
Patch 2.4
, the Throne of Kil'jaeden underwent a revamp to make it more compatible with daily quests, and as a result all of the elite mobs located there (besides
Doom Lord Kazzak
) were removed from the game.
0.20% Chance of an epic drop.
1.58% Chance of a rare drop.
7.33% Chance of an Uncommon drop.
0.20% Chance of a common drop.
5.35% Chance of a poor drop.
Note: % drop chance was correct at the time the page was generated/created. This will not be updated.
External links
Edit