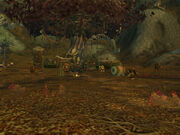 Deadwood Village [48, 89] is a village of the Deadwood tribe of corrupted furbolgs in southern Felwood. The Deadwood furbolgs, like most of their kin, are corrupted and hostile. Killing the Deadwoods is a good way to gain reputation with the furbolgs of Timbermaw Hold.
Quests to get before arriving
Edit
In Cataclysm
Edit

This section concerns content exclusive to Cataclysm.
Deadwood Village is slightly expanded and more fortified. A wooden fence comprised of thick timbers encloses much of the Village and there are more sturdy structures inside.
Ad blocker interference detected!
Wikia is a free-to-use site that makes money from advertising. We have a modified experience for viewers using ad blockers

Wikia is not accessible if you've made further modifications. Remove the custom ad blocker rule(s) and the page will load as expected.