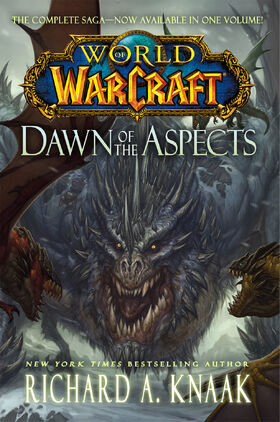 "Dawn Of The Aspects" is a short story compilation by Richard Knaak focusing on the origins of the original five great Dragon Aspects (Alexstrasza, Ysera, Nozdormu, Malygos and Neltharion) and how they came to be the respective dragonflights. The narrative also tackles their entanglements with its primary antagonist Galakrond, the supposed Father of Dragons, as well as secondary antagonist Talonixa and tertiary antagonist Coros. Supporting characters who play important roles also include the likes of Kalecgos and Jaina Proudmoore, and features cameos of old and new characters from the WoW universe (such as Modera and Buniq). The story also features partial coverage of the Keepers, otherwise known as Titanic watchers, in particular the presence of Tyr.
External links
Edit
News

WoW Official Game Site (US)
Dawn of the Aspects Paperback Coming November
by Blizzard Entertainment, Aug 29, 2013 11:42 AM PDT
Ad blocker interference detected!
Wikia is a free-to-use site that makes money from advertising. We have a modified experience for viewers using ad blockers

Wikia is not accessible if you've made further modifications. Remove the custom ad blocker rule(s) and the page will load as expected.