David Wayne is a level 70 quest giver located on a small tip of land just east of Firewing Point in the contested territory of Terokkar Forest. He is a former member of the Sons of Lothar, and can be found at Wayne's Refuge in Terokkar Forest. He left the Alliance Expedition to become part of "something larger".
He may be related to Vinna Wayne.
After looting the [Illidari-Bane Shard] in Shadowmoon Valley and completing the subsequent quest, you will be sent to Wayne as part of a quest called

 [69] The Hermit Smith. None of the following quests are available until The Hermit Smith has been completed.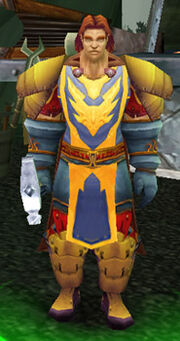 He starts the following quests:
See List of Terokkar Forest NPCs.
"Ashk zila enkil X adare lok revos xi mannor kiel lok zilthuras il archim Il gular adare kamil revola lok karaman il zila tichar" — Demonic, spoken while forging Illidari Bane weaponry.
His name is the result of a combination of the first names of the two presidential brothers, David Palmer and Wayne Palmer, from the television show "24".
His name may also be a reference to actor, director, and comedian David Wain, known perhaps most popularly for the TV show "Stella" with Michael Ian Black and Michael Showalter.
Additionally, his last name in particular may reference John Wayne, an actor known best for his roles in western films.
External links
Edit