Darting Hatchling

Item Level

30

Use: Teaches you how to summon this companion.
Sell Price: 25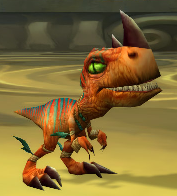 Darting Hatchling is a companion that follows you around, meaning it is a non-combat pet and will not aid you in battle. Occasionally it will "dart" off into the distance at a high speed and run around in a circle before returning.
As of Patch 3.3.0 The Darting Hatchling is found within Dart's Nest, an infrequently spawned object in Dustwallow Marsh. The spawn location appears to be close to where Dart, a rare mob raptor appears. Reports are that they are not on the same timer.
Coordinates
Edit
Patch changes
Edit
External links
Edit
Ad blocker interference detected!
Wikia is a free-to-use site that makes money from advertising. We have a modified experience for viewers using ad blockers

Wikia is not accessible if you've made further modifications. Remove the custom ad blocker rule(s) and the page will load as expected.