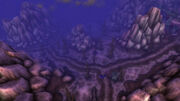 Darkwhisper Gorge
[85, 45]
is an area in the eastern part of
Mount Hyjal
under control of the
Twilight's Hammer clan
. It winds through a large area that includes the
Seat of the Chosen
, the
Twilight Gauntlet
, and
Doom's Vigil
, leading all the way to the
Forge of Supplication
. Darkwhisper Gorge and the surrounding areas are part of a multi-phased zone.
Inhabitants
Edit
Initial phase
Intermediary phase
Final phase
Pre-Cataclysm
Edit
Darkwhisper Gorge
was an area in the far south of
Winterspring
which consisted of a network of tunnels and chasms. This area was inhabited by
elite
demons
of an approximate five-man difficulty, although easily solable by a level 80.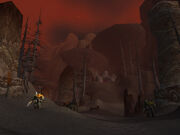 This treacherous cavern laid along Winterspring Valley's southern slope. Poisonous green vapours bubbled out of acid pools deep within the bottom of the gorge. Malevolent sounds echoed from a cave at the furthest end of the gorge, leading some night elves to believe that demons may have taken refuge in the toxic depths.[1] (WRPG 213)
The demons in this area were important to a number of quests, unlike their Blasted Lands counterparts.
Notes of interest
Edit
REDIRECT Template:Map/Coords. This was most likely the entrance to Hyjal, as one could see trees and grass behind the portal, especially when using Far Sight: the trees and vegetation matched the ones from the Caverns of Time Mount Hyjal raid instance, and a giant, blackened crater at the end of a winding path trough the area could indeed be the effect of Archimonde's destruction.
Patch changes
Edit
Patch 4.0.3a

(2010-11-23): Incorporated into Mount Hyjal from Winterspring.

External links
Edit